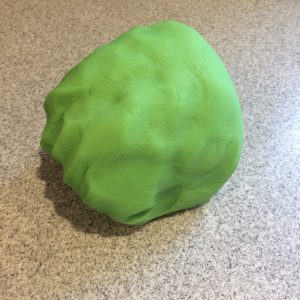 I'm sure there are 100 similar recipes for homemade play dough out there.  This is the one I use.  It is simple, quick, cheap, and non-toxic.
Homemade Play Dough Recipe:
2 cups flour (cheap all-purpose white flour works best)
2 cups water
1 cup salt (basic cheap salt)
2 Tbsp oil (canola or whatever)
2 tsp cream of tartar
food coloring (basic liquid from the grocery store, or use concentrated specialty gels for colors like red or purple)
Mix ingredients in a big pot.  Stir over medium heat until it thickens and then comes together in a big ball.  Dump on counter and knead a bit until smooth.
Ideally your end user would observe or assist with the process as he is able.
Today's play dough (pictured) had 20 drops green and 10 drops yellow food coloring.  Cooking time was less than 10 minutes and I barely had to knead it.
Just beginning to heat / Starting to thicken / Ready to remove from heat